When a close colleague of mine, the lovely Karis from The Modern Sewist, approached me in a bit of a pickle and asked if I happened to have a pattern tucked up my sleeve all ready for release, it was a relief that I could actually answer YES! Not only to having a pattern ready to go, but also that I could help her out in her time of need. What was that time of need I hear you ask? Why, it was for the November Club CloBird subscription of course!
After a little fine tuning, the freshly named Mini Shades Pouch was finalised and ready for her subscribers, and just in the stitch of time too! The pattern features a simple magnetic closure, a detachable cross body strap (using super-cute ¾" (19mm) hardware!), and a smaller overall finished size when compared to the Shades of Yesterday Tote Bag (her 'older sister').
My testing team had great fun playing with this pattern and came up with all sorts of fabric combinations, including some non-pieced 'plain' front versions as well which give a completely different feel to this pattern I think! Enjoy!
You can find the Mini Shades Pouch pattern here.
First up we have our gorgeous cover girl made by the talented Rosemarie from Rosie Blooms!
Check out this stunner made in Tula Pink Spirit Animal prints by Tara from Uh Oh Creations!
And of course we can't NOT have a 'happy little family' photo of her Mini Shades Pouch sitting next to her 'older sister', the Shades of Yesterday Tote Bag!
Tara also made a non-pieced version using leather and chain! WOW!
Love this pretty 'n pink Alice in Wonderland themed one made by Casey from Rounds and Stitches!
How beautiful is this Alaskan-themed one made by the talented Elizabeth from QuiltAngel Creations?!
Milagros made this beautiful floral and geometric-themed non-pieced pouch!
Check out these four, yes FOUR, stunning non-pieced pouches made by Casey from JC'Mila Designs!
Check out this fun rainbow unicorn one made by Karen (@karen_sews on Instagram)!
BOOOOOO!!! Haha can't help but love this Halloween-themed Mini Shades Pouch made by Cheryl from Simply Cherabea!
Cheryl also made a non-pieced Christmas-themed pouch as well!
Eek! Gorguss!! Gorjuss girls that is! Love this darling one made by Charlotte from Les envies de Charlotte!
Melisa from Melisa Jane made this lovely purple ombre version!
And of course simply HAD to snap a photo of it alongside the Shades of Yesterday Tote Bag!
How stunning is this non-pieced one made by Crystal from @tayahdesigns on Instagram! I love the bright pink lining!
Lori (@loripeoples299 on Instagram) made this cute one using animal fabric!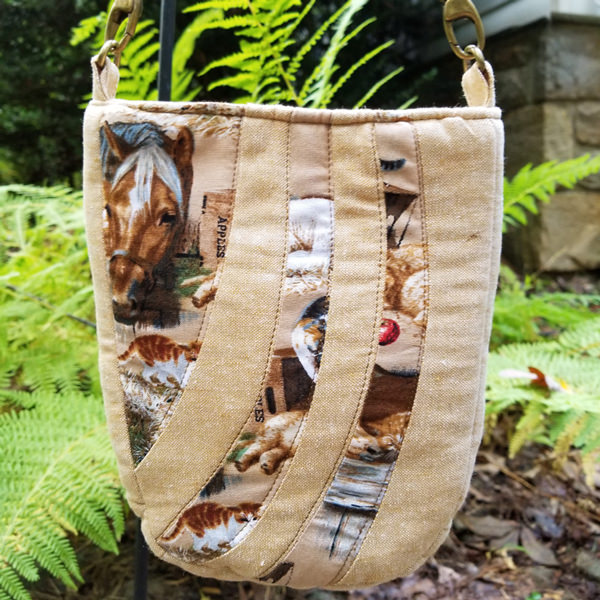 Check out this underwater creation made by Leslie from Love Rubie!
Yum! Cupcakes!!! This delicious Mini Shades Pouch was made by Stacey from All Sewn Up by Stacey!
This non-pieced pouch is looking decidedly appetising made in funky Thermos-themed fabric! This one was made by Jane from S'more House!
Here's another ombre pouch! This beauty was made by the talented Liz from Bitter Candy Handmade!
You can find the Mini Shades Pouch pattern here.
Happy scrappy sewing! Lisa x